Podcasts have been gaining popularity for years. They're a perfect way to learn about new things, to have a good laugh, or to get caught up on what's been happening in the world, all while running on the treadmill or driving to work.
If you're anything like me, you listen to virtually all of the business and entrepreneur podcasts, but get so many great ideas from them that you can't handle them all!
To avoid feeling stressed out by podcasts, I make a point to listen to some that help me get into a calmer mindset. After all, you shouldn't be listening to a podcast if all it does is make you feel more stressed!
The following is a list of some of my favorite podcasts to boost my mood, to help me think positively, and to encourage me to slow down and to live more mindfully. I hope they do the same for you!
"The Lively Show" by Jess Lively
"The Lively Show" is, without a doubt, my favorite podcast. Jess asks her guests thoughtful questions, and her attitude is always positive. "The Lively Show" is weekly podcast designed to uplift, inform, and inspire its listeners. You'll hear interviews with popular bloggers like Dana Shultz from "Minimalist Baker," Courtney Carver from "Be More With Less," and Caroline Rector from "Unfancy" But this podcast is so much more than just strategies for successful blogging. It gets into the nitty-gritty details of people's life stories, and explores how they got where they are. Its perfect when you feel down or you need a boost to your mood.
"Magic Lessons" by Elizabeth Gilbert
To be brutally honest, I have not read any of Elizabeth Gilbert's best-selling books yet. But I certainly want to since I listened to her podcast. "Magic Lessons" will help you access your creativity, and will give you the extra nudge you need when you feel stuck. Elizabeth talks to people who are facing creative challenges, and to guest experts who share tips to unleash your creativity—because everyone is creative, whether they think they are are or not. "Magic Lessons" is no longer running, but there's an archive of 12 episodes. It's perfect for when you're feeling self-doubt and you need that proverbial kick in the pants.
"The Chalene Show" by Chalene Johnson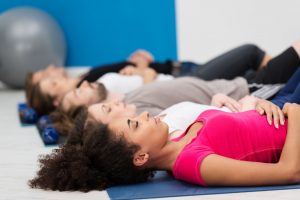 Chalene is amazing. She's a motivational speaker, a life coach, the creator of the Turbo Kick & PiYo workout, and she teaches people how to grow their own businesses. I don't think this woman ever sleeps! "The Chalene Show" is a weekly podcast in which Chalene shares her practical steps and resources to help listeners improve their focus, relationship/s, fitness, health, organization, balance, and energy. I always feel 1,000 times more motivated after I listen to Chalene. She offers really unique advice. I highly recommend you listen to her particularly when you need help with exercise, or if you don't feel motivated to do something.
"Anna Faris Is Unqualified" by Anna Faris and Sim Sarna
I'm hooked on "Anna Faris is Unqualified." I've loved her since her "Scary Movie" days, and her weekly podcast leaves me laughing through my commutes. The podcast feels pretty casual. Anna talks with her guest, her producer, and a caller at the same time. But that's why it's so funny. It feels like you're talking to your friends. The podcast's home page describes the podcast as "not-so-great relationship advice from completely unqualified Hollywood types." So if you're trying to figure out how to deal with that Tinder date ghosting you, Anna's got it covered. Just a warning—this podcast is not appropriate for work, but it's perfect for when you feel silly and you need a good laugh.
"The Simple Show" by Tsh Oxenreider
Tsh is an advocate of living simply, but there's more to it than getting rid of things. Tsh is all about living holistically according to your purpose in life. "The Simple Show" includes conversations on simple living, projects, and passions. There's helpful advice for achieving minimalism. Though some topics aren't typically the ones you'd expect to hear on a minimalist podcast, Tsh makes it a habit to ask her guests how they live simply, whether the main topic is fashion, writing, parenting, travel, or food, travel, writing, parenting, or fashion. New episodes of "The Simple Show" are released every other week. They're perfect for when you feel like you need to slow down and take a breather.
"Happier" by Gretchen Rubin
If you like Gretchen Rubin's book "The Happiness Project," you'll love her weekly podcast "Happier." The title sounds trite, but I guarantee the podcast is not. On the podcast, Gretchen and her sister, Elizabeth Craft, offer manageable, practical advice on cultivating good habits and happiness. Their advice focus on making small changes to address larger issues like procrastination and clutter. I especially like their One-Minute Rule: if there's a task you could complete in a minute or less, just do it without further delay. "Happier" is perfect for when you need practical advice on how to feel happier.
"She Makes Magic" by Koren and Alana Helbig
The twice-monthly podcast "She Makes Magic" is geared towards women who are craving soul-centered change. Does that sound too mystical for you? Don't worry. It's not. Koren and Alana Helbig are sisters who focus on helping you stay motivated and grounded in real-life, practical ways. The Australians hosts interview kind-hearted women, some of whom are living unconventional lifestyles. I've enjoyed every guest they bring on. The inspirational guests are doing what other people told them wouldn't work, but they went ahead and did those things anyways. This podcast is perfect for when you feel like you need a change, but you don't know where to start.
Are you aboard the podcast bandwagon? Which ones are your favorites? Please share them in the comments section, or send me an email! I look forward to hearing from you!